After seeing numerous posts about The Iron Whisk, we decided to try it out… and man, it did not disappoint!
The Iron Whisk is tucked away in the small town of Cobden, Illinois. You'll find it nestled in a cool little building, just down from the infamous Fuzzy's. It is a laid back brunch spot of roughly 12ish tables (if memory serves correctly), with a very simple but modern dining room. They offer a variety of brunch items ranging from the classic Biscuits and Gravy, to the Cobden Cubano– a pork belly and ham sandwich, served up traditional Cubano style.
With so many amazing choices on our first visit, we were a little torn with what to try. Every single dish we saw being brought out looked amazing. We decided to go with one dish from their Daily Specials board– the Father's Day Steak and Eggs, along with the highly praised Lemon Blueberry Dutch Baby, and an order of B&G just to hit all the main staples.
We have to lead off by saying, that dutch baby is pure perfection, and definitely worth the praise! Just going off the menu description, we expected something sweet and heavy, much like your typical fruit topped pancakes. What we received, however, was simultaneously eggy, tangy, sweet, and deceptively light. The blueberry compote and lemon curd add just the right amount of acidity and freshness that this dish needs. It also pairs perfectly with their Mimosas!
When we ordered the steak and eggs, we were a little skeptical at first. Steak is one of those things that many restaurants offer, but few really execute amazingly. This was definitely on the amazing end of that spectrum. Whoever was cooking knew exactly the right amount of seasoning needed to push this steak to its perfect flavor. It was just the right amount of salty, and didn't need a drop of steak sauce. It was cooked to just the right temperature, and not a bit over. If it is on the menu next time you are there, definitely try it before it is gone. The B&G also hit the spot, and was pretty typical of what you'd expect, but once again having been perfectly seasoned.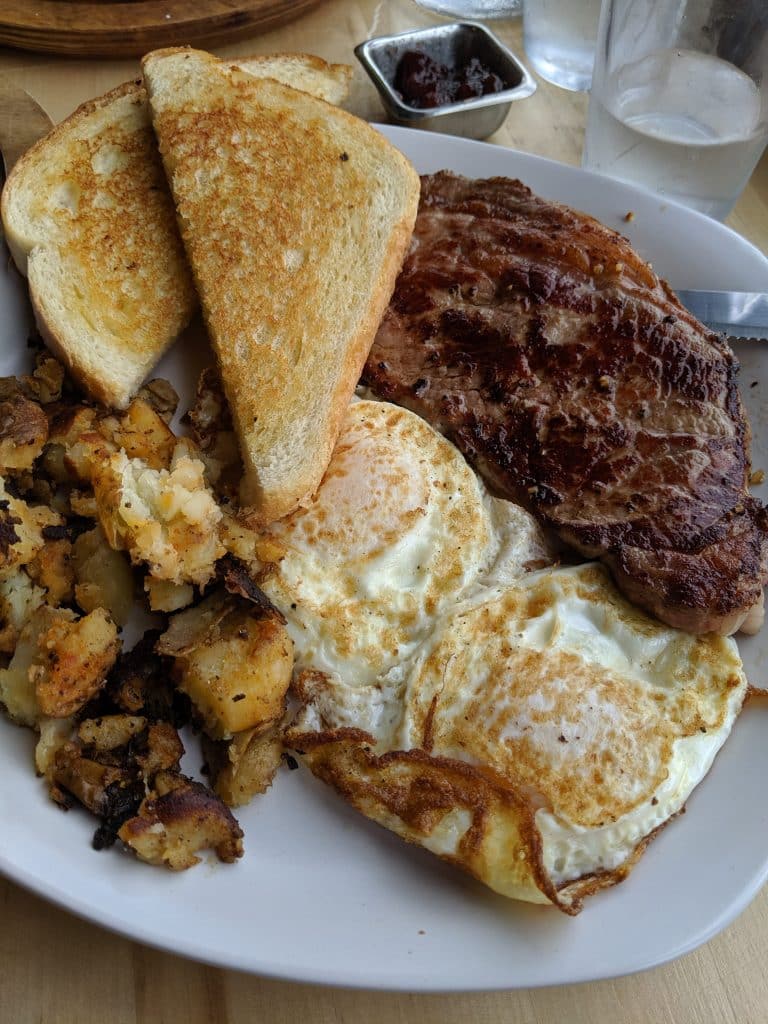 Overall, this is definitely not a placed to be missed, and well worth the drive if you don't live in the immediate area. Between the phenomenal staff working, the owner stopping by to see what everyone thought of the food, and the food itself, you cannot go wrong! Be prepared to wait a few for a table if it is a busy day; then sit back, relax, and enjoy the amazing Southern Illinois Eats that The Iron Whisk has to offer!