This week's featured restaurant is freight house located in Paducah Kentucky. This restaurant boasts of creating traditional southern flavors with a modern twist. This amazing restaurant is helmed by chef Sara Bradley, a runner up on Bravo's competitive cooking show: Top Chef. We of course rooted for our hometown favorite and was sad to see that she didn't take first place. Nonetheless, we had to try out her delicious foods and man, it was amazing.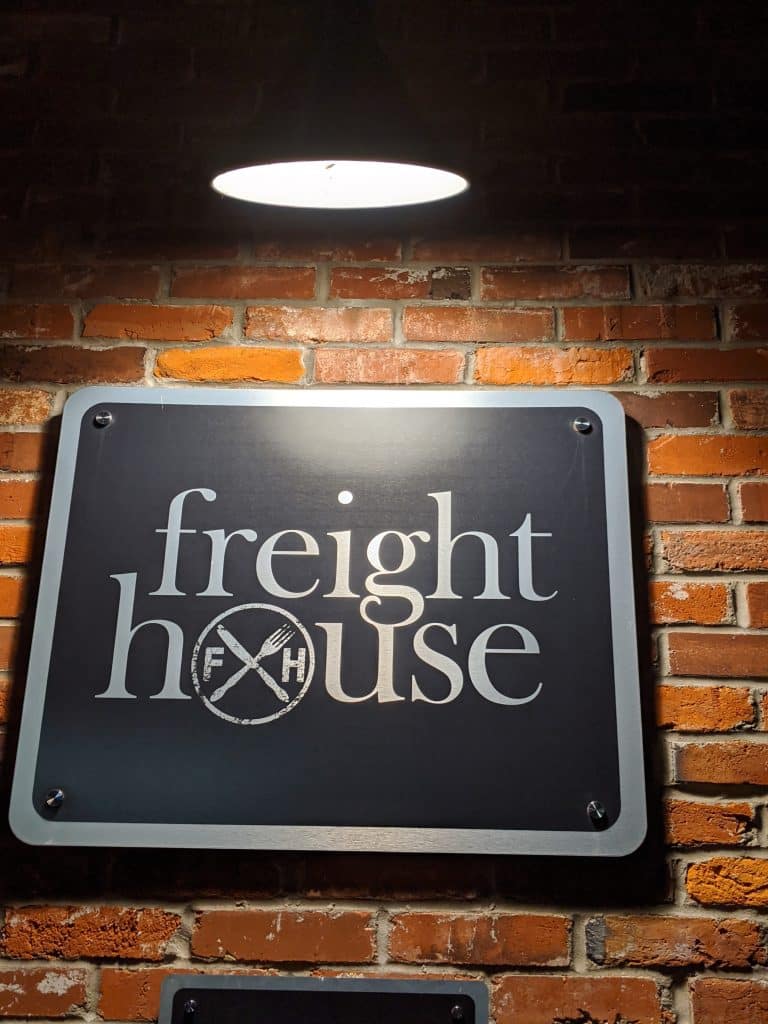 Their menu is constantly changing, freight house features fresh local fare, using ingredients from farmers mostly within a day of Paducah. Check their webpage to see what they are cooking up, as their menu changes seasonally. All their dishes are prepared fresh daily and subject to availability. They offer a plethora of classic southern dishes with her own modern twist.
We had a tough time picking out what to try for our first visit, and it all looked so good. So we and our friends: Michele and John ordered a variety of dishes creating a nice smorgasbord. We tried several things: fried oysters, warm parsnip soup, grilled caesar salad, ky silver carp, braised pork shoulder, crawfish pot pie, and the crab cakes. Than we had 4 different desserts, because we couldn't decide on what to share, so we just ordered all 4! We tried the caramel banana pudding, pappy endings, candy cane cake, and chocolate buttermilk cake.
Appetizers to start it off!
To begin this fine feast we tried the fried oysters: crispy crunchy fried oysters and butter pickles served over white bread, drizzled with Nashville hot oil. The briny oysters, over the soft white bread that soaked up the oil, combined with the crunchiness of the batter and pickles; created an amazing flavor with all the right textures. Next was the warm parsnip soup. I honestly didn't think i would like it, as Keesha was the one that ordered it. But it was, pleasantly delicious. The soup was creamy and rich, with welcome bursts of citrus from the supremes of grapefruit. The crouton-like fried breads along with almonds created a nice textural contrast that worked well with the soup. Our friends John, and Michele tried the fall pickles and caesar salad, also delicious choices. Definitely don't sleep on the grilled caesar, the char really takes it to a whole new level.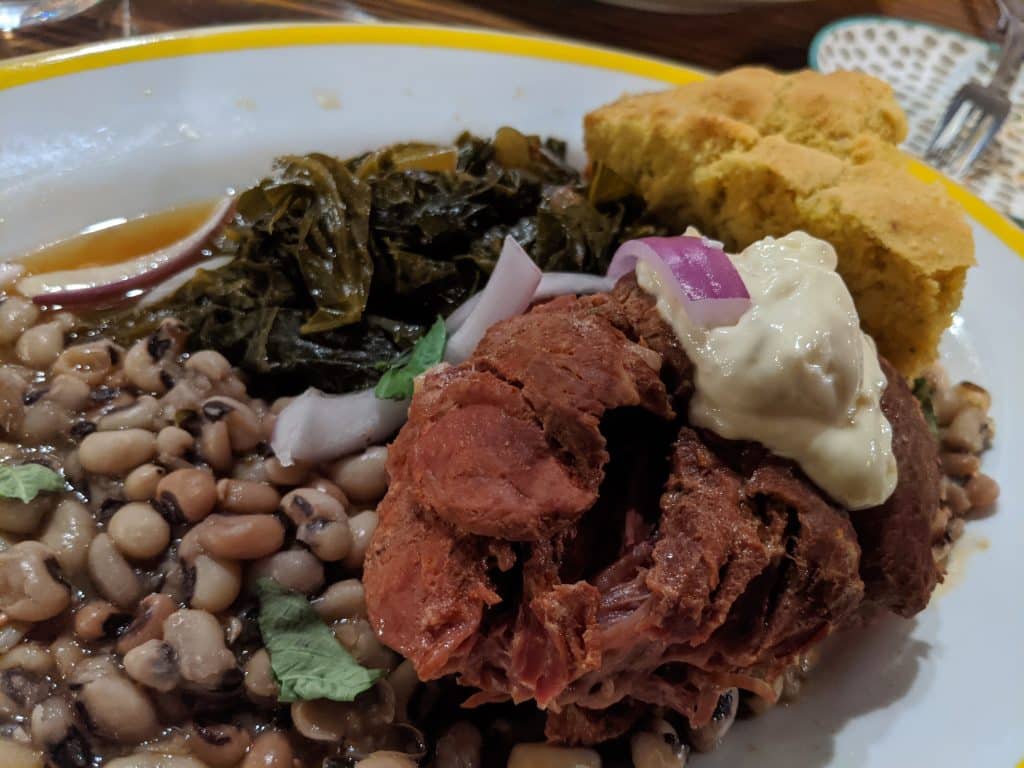 Onto the entrees
Everything looked and sounded delicious, it was definitely one of harder decisions of the night. I tried the braised pork shoulder, served with black eye peas, greens and a hunk of cornbread. The fall apart pork shoulder was topped with a dollop of fennel aioli, which added a layer of flavor that combined well with fattiness of the shoulder. What really brought the dish together was the sweet greens and black eyed peas, that are cooked with every bit of southern charm you would expect from the Kentucky staple. The cherry on top was the crumbly corn bread, that was buttery and sweet, as it should be. Keesha tried the roasted duck, and oh man did it not disappoint. The duck was perfectly cooked a juicy medium rare, served with brussel sprouts, a thinly slice of country ham, and pepper jelly. The crispy duck skin and bitterness of the sprouts married perfectly with the sweet heat of the pepper jelly. The saltiness of the ham rounded out the dish, for a delicious bite each time.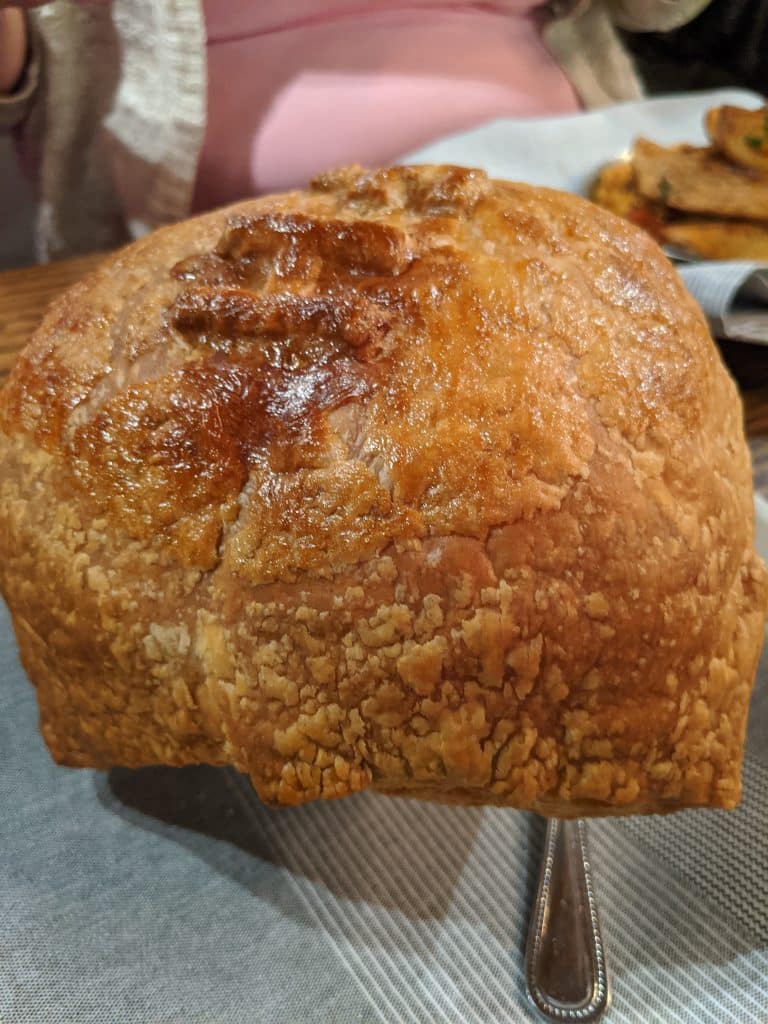 Our table shared the crawfish pot pie, because we couldn't stand to leave it untasted, that was the dish that we were torn about. The pot pie was delicious, with a nice flaky and savory crust. Which broke apart easy and was still sturdy enough to be used to scoop out the rich and creamy crawfish filling. As for the filling itself it was reminiscent of a cajun inspired crawfish etouffe, a great choice on a cold December night. Our friends ordered the Kentucky silver carp and the crab cakes, which they were gracious enough to share with us. Both were amazing dishes, the crab cakes however was the standout of the two.
a little dessert to finish
Now on to the dessert round! Do yourself a favor and make sure you save enough room for what could be the best part of the meal. We luckily had four people, which made it easier for us to taste each of the four options. As the runner ups: the cake and pie were both decadent, and the caramelized banana pudding with whooped bourbon cream was nothing short of divine. The real champion dessert for us was the pappy endings. It offered a tasting board of lemon tarts, peanut butter fudge and pappy bourbon balls, made with a generous serving of the top shelf Pappy van Winkle.
To top it all off, we were able to meet the "real" champion: Chef Sara Bradley. Who graciously made time to chat with us during our meal. She shared some insider experience and stories from the show. She is truly a wonderful chef who has dedicated her career to mastering her craft. Our region is lucky to have such a passionate chef, the likes of which would do well in any large city. Make the drive down to Paducah, and experience the food and hospitality that freight house offers. Happy eating everyone!