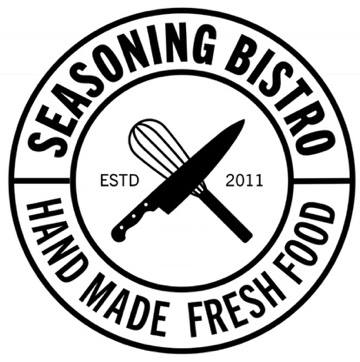 This week's featured restaurant is Seasoning Bistro, located off the square in Benton, IL. This contemporary restaurant features modern American fare, and is led by Katie Karcher, and Troy Ray both classically trained and experienced chefs. They opened their doors in 2011 after noticing a need for healthy locally sourced restaurants in their community.Seasoning bistro offers an ever changing menu. During our visit they offered many delicious options. They offered many delicious small plates such as stuffed portabellas, fried mushrooms and crab cakes. They also have a large assortment of large plates such as their chicken marsala, shrimp scampi, cajun alfredo, filet mignon and the ribeye along with their daily specials. Their desserts are also ever changing and each and everyone looks amazing. I'll stop yammering now and tell you what we had!
We started with house made crab cakes, They were delicious, light and flaky. Served with a little drizzle of fresh lemon juice, it hardly needed the mustard remoulade it was served with. It was a great start to the meal. Keesha tried their special: ancho chili rubbed skirt steak topped with jalapeno pesto and a fresh corn and tomato salad served with brown butter broccoli and green beans. The steak was a perfectly cooked medium rare, while salt forward on its own, was perfectly balanced by the other elements of the dish. The jalapeno pesto had a good amount of heat, but was not overwhelming. The farmers market corn and tomato slaw brought a much appreciated hint of sweetness and acidity to the dish.I tried the cajun alfredo with steak, linguini alfredo sauteed with onions, peppers, and mushrooms with a little bit of cajun heat. This alfredo had very well balanced cheesy and creaminess. The medium steak paired well with pasta and the cajun spices. The veggies also added an extra depth of flavor not usually seen in an alfredo sauce but definitely a welcome addition. The dish was served with roasted cauliflower, this light and delicious side provided a great crunch for the pasta.
A trip to the Seasoning Bistro isn't complete without trying out their desserts. We tried the zucchini brownie sundae topped with cinnamon ice cream and served with a delicious chocolate sauce. The ice cream was creamy and paired with the crisp brownie and the chocolate sauce was truly delectable. The other dessert was the trio of sorbets, a blackberry, peach ginger and cantaloupe. It was a light sorbet that completed our dinner nicely. Oh, I can't forget the drinks! We tried the blackberry mojito and the peach daiquiri both were mixed well and served with crushed ice.
The Seasoning Bistro is a wonderful addition to Southern Illinois. Call in a reservation, make the drive and try them out if you haven't already done so. We wont regret it! Check out their page http://seasoningbistro.com or their Facebook at https://www.facebook.com/SeasoningBistro/