Recipe of the day: Hot Country Ham & Pimento Cheese sandwiches, dressed with mustard, dill thunder and lightening, and Autumn Ridge Farm's radish microgreens. The result is a rich, creamy, crusty sandwich that hits you with a bright pop of acidity from the thunder and lightening, and salt from the country ham.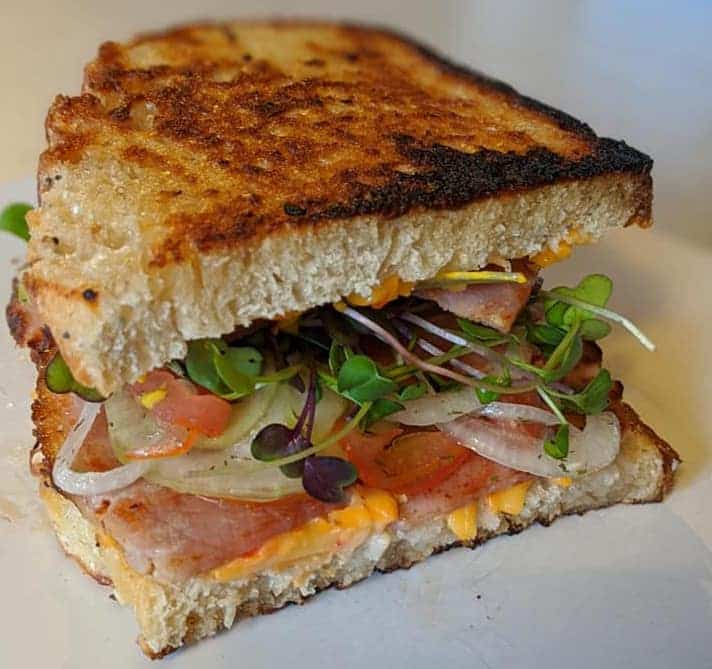 First, make your Thunder and Lightening a couple days in advance (or bare minimum, 3-5 hours). In a bowl, very thinly slice 1 medium/large cucumber, 4 roma tomatoes, and one medium onion. I like yellow onions, but any type is really ok. I also prefer roma tomatoes for this recipe because they are a little firmer and easy to slice very thin; the slices are also about the same size as the cucumber, keeping it cohesive. I use a mandolin to slice mine, but I like them very thin; please slice based on your preference. Toss veggies with a pinch of salt, pinch of pepper, 1 Tbsp of dill (aka dill weed), and 2 chopped garlic cloves. Once those are tossed together, cover mixture with vinegar (white or ACV) and water– 1/3 vinegar to 2/3 water– until all the vegetables are just covered. Place in an air tight container and refrigerate til ready to use.
To make the sandwiches:
Brown your slices of country ham, and sit to the side. Turn your skillet to medium heat. Next, you will want 2 slices of a nice crusty bread. Put mayonnaise on BOTH sides of the bread. You can sub butter here, but mayo actually gives the sandwich a richer and more colorful crust. Lightly spread your pimento cheese mixture onto the inside of both bread slices. Place the bread, mayo side down, into the hot pan. Allow to brown for a moment, then cover with a lid just long enough for the pimento spread to start to melt. Check for a nice golden-brown crust, and remove from the pan. Next, place your ham slices over the pimento cheese. Give a slight drizzle of mustard, and top with thunder and lightening and micro greens. Close your sandwich, slice, and devour!
That's it, it is that simple. Just one way to up your sandwich game! All of those items on their own are great, but putting them together makes for an incredible bite. As always, happy eating!