Quarantine Kitchen Day 2ish: Everything but the Kitchen Sink Eggs Benedict!
In an effort to use everything in our fridge, in as many different ways as possible, today I wanted to see if I could put my own spin on Eggs Benedict. We have sooo many eggs, since we grabbed some when the restaurant closed down, and this seemed like the perfect dish to use up some of my leftover ingredients.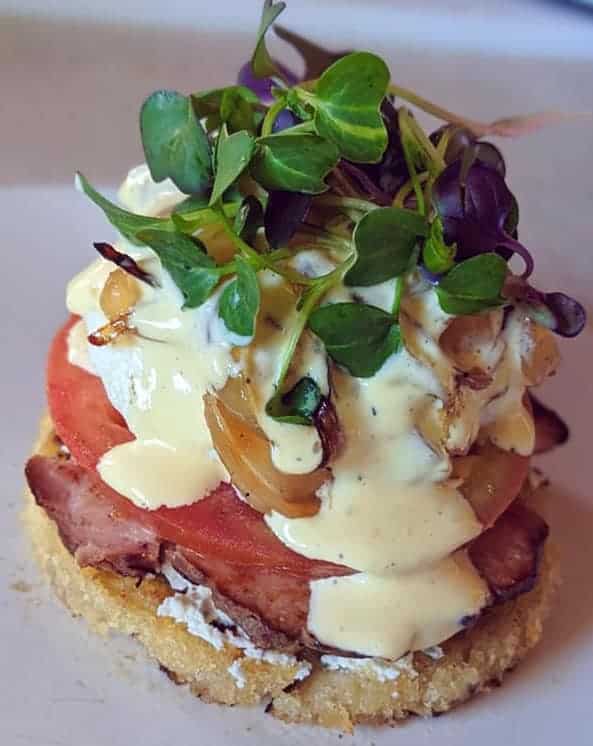 First off, I got water with some salt and a tablespoon of vinegar on the stove at medium heat, so it would be at a nice rolling simmer when it is time to poach the eggs.
Next, take a large slice of bread, and cut a circle out using any round cutter. (The lip of a cup works well if you don't have a cutter!) Smear both sides with a light coating of mayo, then toast in a hot pan. Sit the toast to the side, and sear off a couple thin slices of country ham. Take out the ham, add a little butter to the skillet, and caramelize your onions. Once nice and golden, sit those to the side as well.
I like acidity with everything I eat, so I had William Lo slice a nice beefsteak tomato and a couple small rounds of herbed goat cheese, while I got the ingredients ready for the Hollandaise Sauce. In a small bowl, I separated out 3 egg yolks. (Our puppers enjoyed the scrambled egg whites so they didn't go to waste.) I also grabbed some lemon juice and salt, then got a stick of butter melting in the microwave. You want the butter nice and warm, but not too hot. The Hollandaise is best served warm, so it was the last thing to make.
Time for the eggs! Poached eggs seem a little scary to make at first, but are actually pretty simple. Crack your eggs into separate ramekins or little bowls, and have them ready to go. Swirl the water until it is all flowing in one direction like a whirlpool. Carefully drop the eggs, one at a time, into the center of the water– allow each one to pull into itself before adding the next. The swirling water will help the whites not feather/spread out as badly. Turn off the heat, cover the pot, and cook undisturbed for 4-5 minutes.
While the eggs are poaching, add the 3 yolks to a blender, along with 1 Tbsp of lemon juice, and 1/4 tsp of salt. Turn the blender on high, and allow to blend until the yolks start to turn light yellow. At that point, with the blender on, SLOWLY start to add in your warm melted butter. Start by adding a few drops at a time, then work up to a slight drizzle. Once you have added about half of your butter, turn off the blender and check the sauce. It should look smooth, not grainy or separated. If it appears smooth, turn the blender back on and slowly continue to add the rest of the butter, and continue blending for an additional 10 seconds to fully incorporate. You can then add salt, pepper, and a pinch of cayenne to taste.
Remove your eggs from the water, and place on a paper towel to soak up any excess water. Get ready to layer! Toasted bread, smear of goat cheese, ham, tomato slice, poached eggs- salt and pepper them, caramelized onions, Hollandaise sauce, and some of the left over microgreens to top it all off!
There you have it: Everything but the Kitchen Sink Eggs Benedict. Easy peasey. If you have never tried to make Eggs Benedict at home, look at what ingredients you have, then give it a shot! You can use bread, English muffins, bagels, bacon, sausage, tomato, cucumbers, whatever you have available. You can also add different seasoning to your Hollandaise as well; try it with a little Cajun or Old Bay seasoning for a slight kick. This dish is honestly so fast and easy to make, and tastes amazing no matter what you do. Hope you enjoy, and as always, happy eating!